23 Aug

3 Ways Parents Can Practice Self-Care
"My head was spinning in the days building up to my kids' first day of school this year…"
We literally went to four different shoe stores to find shoes that would meet the school uniform policy. Backpacks, meet the teacher night, sorting through all the school supplies and a birthday party, all made for a very hectic week.
As a culture, we often feel like we have to do everything ourselves when it comes to parenting, especially if we want the best for our family. Puree our own baby food, use cloth diapers, hand sew our kid's clothes, sign them up for all the after school activities, take them to cultural events, stay on top of homework all while balancing full-time jobs, regular exercise, keeping our homes immaculate, and nourishing our relationships. It's no wonder that parental burnout happens.
As a single mama, it's imperative that I practice self-care to keep everything afloat. When I don't, patience runs short, important details are forgotten, and I'm just not able to be as present as I want to be with my kids. Here are three ways any parent can make self-care a priority.
"Hiring help with everyday tasks in any little way prevents me from stretching myself too thin. And ordering meals from The Good Kind is even better."
1. Make Time for Quiet
In the hustle and bustle of work, errands, and picking up and dropping off kids at school, it can feel like life is just spinning all around us. I've found that it's critical to take time to shut off the noise of the world (this includes TV and my computer). My days are always different, but some of my favorite ways to find quiet are taking a 20 or 30 minute walk along the river or meditating. I loving using the Headspace app on my phone. It's a great way to recenter or start my day, and it even has meditations for going to sleep which is a great way to free your mind of all the to-do lists at the end of the day.
2. Don't Do it All Yourself
As parents, I'm sure we've all heard some version of "I don't know how you do it all," but I unashamedly don't. There is a certain amount of boundary making and learning to say no that I've learned, but I've also discovered the value of asking for help.
For any entrepreneur or business to truly succeed, delegating has to happen. No one person can reach success in a silo. The same thing goes with parenting and especially motherhood. We all know the saying, "It takes a village," but it can be hard to find that village today in our fast-paced lives.
One of the biggest gifts I've given myself as a single mama of four is grocery delivery. I don't always order my groceries, but when I'm in a bind, it can be a lifesaver. Hiring help with everyday tasks in any little way prevents me from stretching myself too thin. And ordering meals from The Good Kind is even better. During back to school week, taking care of me didn't have to take a back seat with three days of meals ready for me to eat whenever I needed. I was able to spend less time prepping meals for myself or eating unhealthy food on the go, and spend more time enjoying my meals and getting back to the things only I can do.
3. Connect with Others
When my kids were little, it was challenging being surrounded by toddlers and diapers all day. So when I had the opportunity to talk or go out with friends, I relished it. It can be hard to always make one-on-one time with friends, but you can plan playdates after school, invite friends with kids over for dinner, or just grab a quick coffee in the morning after the kids are in school. Human connection helps us know that, yes, all those crazy things you never expected about parenting are in fact normal. And you may even being able to pass along some of your own tips for being a master juggler in the circus of parenting.
Read more from Amy Johnson on her blog Maker Mama and in her earlier post on The Good Kind about Tips for a Healthy, Happy Back-to-School.
"The Good Kind Eliminates Housework the Week after Labor Day!"
Ok. Well, not completely. We are having an earth-shaking FLASH SALE ON MEAL DELIVERY, though, which will pretty much completely eliminate your need to grocery shop, meal prep, cook, and do dishes.
Think of the TIME you'll have on your hands! You'll actually make it out to Sound Cream at the Pearl with the kids or your friends or all on your own like you've been meaning to do! And you'll have eliminated your need to think about whether what your eating is aligned with your decision to eat better and support local businesses.
20% discount on any Meal Delivery Order using GOODLIFE discount code.
Order by Friday, 9/1 @ 12pm.
We also ask you to "like" us on Facebook and "follow" us on Instagram then tag us in a post letting people know you are living the #GOODLIFE!
THERE ARE ONLY 25 DISCOUNT CODES AVAILABLE so take advantage while you can! This steep a discount won't be available again until next year.
Keep your eyes on our Instagram and Facebook accounts, we'll keep you updated on how many discounts we have left and remind you when the code becomes valid and the madness begins.
We can't wait to help ya'll become the 'best version of you'!
MEAL DELIVERY OPTIONS & MENU:
Find out what we're making for next week's meal delivery here.
Whole 30 / Paleo 3 Days: Order 3 days of meals delivered on Monday or Thursday.
For Monday deliveries, order by Friday at NOON. For Thursday deliveries, order by Tuesday at NOON. *Breakfast is not included.
Whole 30 / Paleo Month of Mondays: 3 days of meals delivered every Monday for one month. *Breakfast is included.
Whole 30 / Paleo Month: 3 days of meals delivered every Monday and Thursday for one month. *Breakfast is included.
CLICK TO SEE THIS WEEK'S MEAL DELIVERY MENU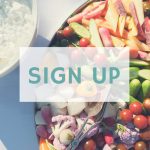 Receive this email from a friend? Sign up to receive our weekly newsletter straight to your inbox here.