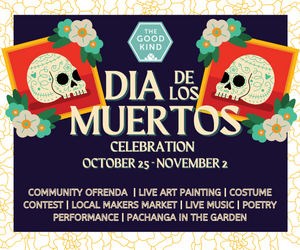 Dia De Los Muertos at The Good Kind
The Good Kind is hosting a week-long Dia De Los Muertos celebration that will take place in The Good Kind's garden lounge from October 25 to November 2nd.
This week-long celebration of Dia De Los Muertos will include local art, music, and food vendors. A large community ofrenda will begin to be installed on Tuesday, October 26th where artists will paint live throughout the week. The finished artwork will be available for purchase at the conclusion of the week-long event on Tuesday, November 2nd. The community is invited to place their offerings upon the ofrenda to celebrate their loved ones' lives throughout the week. Check out the list of events below!
Hourly Schedule
Dia De Los Muertos - Oct 25th
The event starts Monday, October 25th with a local art pop-up from 3pm to 9pm. Guests can enjoy watching ten local artists painting live. The restaurant will also have Rosey's Fish and Chips popping up for dinner with Micheladas on special.
Dia De Los Muertos - Oct 26th
On Tuesday, October 26th live painting and a trivia night will take place in the garden from 7pm to 9pm where guests can bring their family and friends for a game of questions. Prizes will be given for 1st, 2nd, and 3rd place.
Dia De Los Muertos - Oct 27th
On Wednesday, October 27th guests can enjoy live painting and an evening of garden grooves, a collection of sounds in the southtown garden presented by DJs Joshua K Swensen and Mr. Sprout from 6:30pm until 9:30pm.
Dia Del Los Muertos - Oct 28th
On Thursday, October 28th the event will continue with a Pride & Poetry Slam featuring Echo Project and hosted by Johnny Rivers. The event will include a poetry performance to include youth groups and "puro" slam guests. Guests can relax with DJ Socio and enjoy live art by Roberta Rodriguez of Creeping Beauty, Inc.
Dia De Los Muertos - Oct 29th
On Friday, October 29 The Good Kind will kick off the weekend with live painting, ofrenda installations, and a live music performance from Jake Castillo from 8pm to 11pm.
Dia De Los Muertos - Oct 30th
On Saturday, October 30th The Good Kind will be hosting a Pachanga in the Garden. Guests can enjoy sounds from DJ Socio while exploring a night market from 4pm to 8pm with 20 vendors and Andres food truck to drop in on. Group Tan Tan, the headlining band will play from 7pm until 10pm & Panic! At the Costco will also be here from 9:30 PM – 11 PM. Live art performances will be held by Christopher Shig Ramos, Raisa DuraPuraVida Melendez, Cheyenne Lionicia, and Jamie Zapata.
Dia De Los Muertos - Oct 31st
On Sunday, October 31st, The Good Kind will host a Halloween celebration where guests can enjoy a Batas Brunch with Loteria/Mexican Bingo, hosted by AJ Yesica210 Rivas and Autumn Summers, the chairperson for Pride Center San Antonio from 11:30am until 1:00pm. Dj Socio will also perform during this time. Bingo is donation based- collection of in kind donations of brand new unwrapped socks/underwear for Haven for Hope or cash/electronic donations will also be accepted. There will also be safe trick-or-treating for both children & dogs.
Dia De Los Muertos - Nov 1st & 2nd
Monday, November 1st from 3pm-9pm, and Tuesday, November 2nd from 11am-10pm in honor of Dia De Los Muertos, The Good Kind will be open for guests to come view the finished ofrenda. These will be the last days to place offerings upon the ofrenda to celebrate loved ones' lives. The finished artwork will be available for purchase.