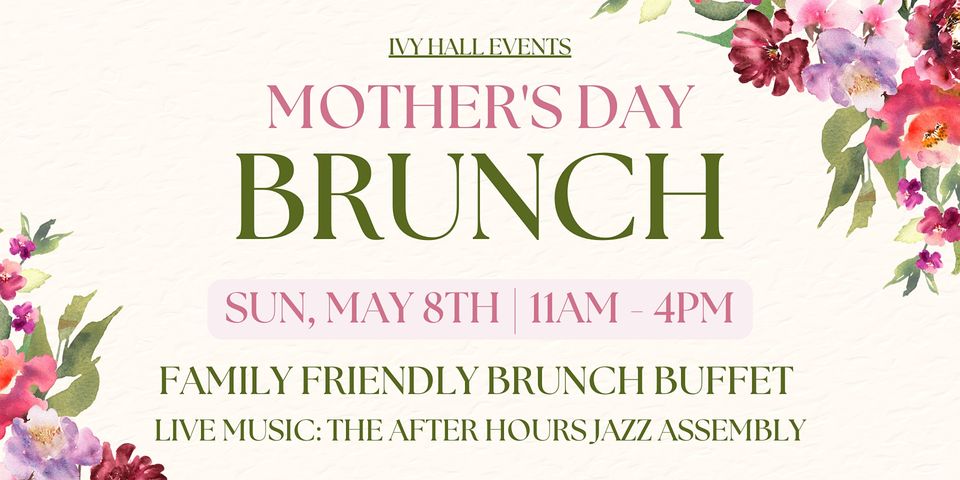 Ivy Hall Events: Mother's Day Brunch
Celebrate mom in our spacious Southtown garden!
—- MOTHER'S DAY AT IVY HALL EVENTS —–
Celebrate Mom with an elegant brunch in the beautiful gardens at Ivy Hall Events on Sunday, May 8th from 11am-4pm.
We will offer a brunch buffet during two time slots. The first will be from 10:30am-12:30pm & the second will be from 1:00pm-2:30pm.
Enjoy live music by The After Hours Jazz Assembly throughout the event.
Tickets are $40 Per Person & $15 Per Child (12 Years & Under).
Street parking is free throughout the neighborhood. Please observe all street signs in the lots that indicate no parking. Additionally, this is an open event, with no reserved seating.
MENU
Quiche Lorraine
Marinated Flank Steak
Honey Sesame Salmon
Grilled Asparagus
Roasted Fingerling Potatoes
Applewood Bacon
Waffles
Market Hash
Cauliflower Au Gratin
Heirloom Tomato & Feta Salad
Peel and Eat Shrimp
Rolls & Herb Butter
Tequila Lime Bread Pudding
Chocolate Mousse & Raspberry Tartlettes