18 May

A New Spa, A Special CrossFit Regionals Event & The Latest Wellness Trend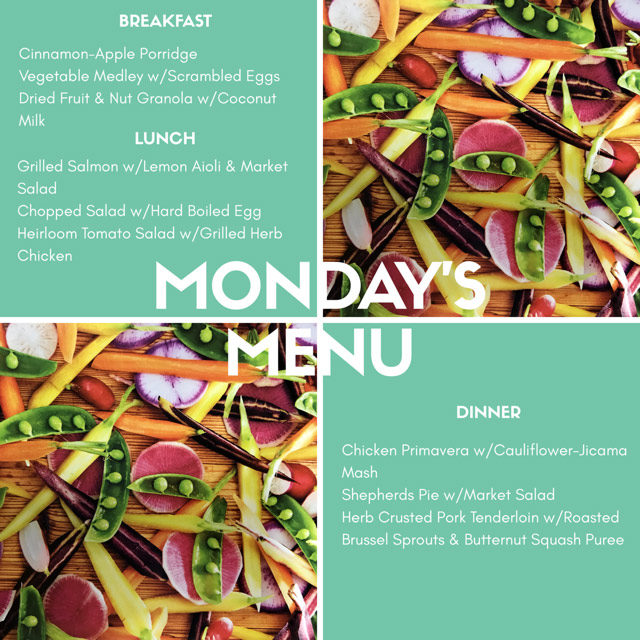 CULINARIA FESTIVAL WEEK IS HERE!
The festival starts tomorrow, if you already have your tickets, fantastic! If you have your tickets and are wondering what to wear, click here. If you don't have tickets yet and want to learn more before committing click here. If you are kicking yourself for forgetting that it starts this weekend and know you need tickets immediately click here. Tim the Girl is wooing the crowd at the Grand Tasting on Saturday night, if we had to pick one event, well, we'd pick that one.
HIATUS SPA IS NOW OPEN AT HISTORIC PEARL
This is exactly what Historic Pearl needed and we're so glad it's now open! Lucky enough to get a sneak peek, we tested out their one hour massage, when we tell you it was relaxing we mean it. The ability to pop into a retreat in the middle of downtown is just part of the appeal. They offer a membership option, a monthly spa service for $69, and we love the idea. It's the perfect way to commit to your own (sanity) wellness, a monthly treat to look forward to plus you get a solid discount on additional monthly services. Get the details on all spa services including the optional monthly membership here.
Staying sane appears to be a trend in this email. If you're like us, you're juggling all the things life throws at you (family, work, hobbies, etc.) and sometimes it feels like a lot to handle. So what's the solution for taking pause, regaining composure and tackling life in the most enjoyable way possible? Meditation. The latest in wellness buzzwords, we want to tell you we've made it part of our daily routines but it's proved a bit challenging. Can you relate? We know it can be extremely beneficial, we're so plugged in to some form of tech device all day that a mental break, no tech allowed, is what every doctor is ordering. We watched this quick 2 minute video and she nailed all of our reasons why we don't do it in the first 30 seconds. She also convinced us to make time for it – anti-aging, stress reduction and becoming less reactionary – were a few points that caught our attention. Watch this quick video, see if it shifts your perception about this free, impactful way to improve your mind, body and soul.
Do you have plans for Memorial Day? The temps are rising and any body of water is looking very tempting. If you're looking for day trip worthy swimming spots check these ones out. If distance isn't a barrier, here are 19 great swimming holes throughout Texas.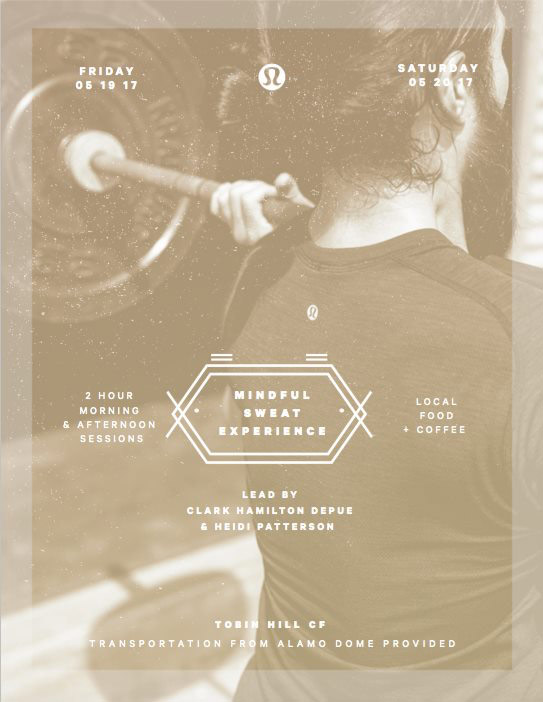 CROSSIFT REGIONALS SWEAT SHUTTLE BY LULULEMON ATHLETICA:
Calling all spectators of the CrossFit Games – South Regionals:
lululemon athletica is providing you with four opportunities for a mindful sweat experience. Expect transportation to the local box (no drop in fee necessary) and some of San Antonio's best coffee and food post workout (hint, hint The Good Kind is doing the food!).
Details: there will be two shuttles running between the Alamodome and Tobin Hill CF to keep it easy. If you are a local not attending the CF regionals — feel free to meet lululemon at the Crossfit box.
Limited space is available, reserve a spot for the class time and day that works for you. Make sure to include your lululemon size in the RSVP message. Reserve here.
Class times:
Friday + Saturday
9:30am-11:30am & 1pm-3pm
REMINDER: MEAL DELIVERY OPTIONS & MENU
Find out what we're making for next week's meal delivery here.
Whole 30 / Paleo 3 Days: Order 3 days of meals delivered on Monday or Thursday.
For Monday deliveries, order by Friday at NOON. For Thursday deliveries, order by Tuesday at NOON.
Whole 30 / Paleo Month of Mondays: 3 days of meals delivered every Monday for one month.
Whole 30 / Paleo Month: 3 days of meals delivered every Monday and Thursday for one month.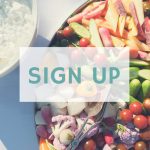 Receive this email from a friend? Sign up to receive our weekly newsletter straight to your inbox here.