18 Aug

Olmos Park's Newest Addition: Feliz Modern
"I was that weird kid rearranging furniture in the middle of the night, always trying to improve the layout and create a new feeling for the room."
Feliz Modern is opening in Olmos Park on Saturday, August 26th and we can't wait to see all the items this self-proclaimed 'quirky and accessible' store carries. Everything falls under the categories of Art, Life, or Fun, from handmade art pieces to items to help you welcome loved ones into your cozy home including unique party supplies for entertaining (after all, what's the point if we aren't celebrating life and its milestones?!). 
Local artists' work will be carried in the store as well highlighted by their rotating 'featured artist series' in their in-house gallery. Kelly O'Connor is their inaugural local artist, her work has long been a favorite of the Diaz couple and we hear she's making some really great pieces specifically for this show.
Walking into Feliz Modern you can expect a bright, colorful and quirky asthetic, something a little different than the bohemian, shabby chic, glam looks currently found in San Antonio retailers. The store is centered around the areas owners Ginger and Mario Diaz love in their own lives: art and connecting with friends and family. Both of these talented individuals come from art/design backgrounds and love to support local artists in addition to hosting gatherings for friends and family. As such you can expect to see work from local creatives in their in-house gallery in addition to heaps of classic and unique supplies for entertaining, from casual kids' parties to larger celebrations. They firmly believe that the best parties are thoughtful and surprising or cheeky, but never fussy. Often complimented for their own interior décor, Ginger has collected pieces for the shop that she'd happily feature in her own home at various price points, ensuring that everyone can find something at Feliz Modern. Oh, and it gets better, Studio Feliz, a space indoors/outdoors at the rear of the store, is also available for rental for small parties, corporate meetings, workshops or pop-up shops. Another fun, ever-changing component offered to their customers.
When asked why she got into the retail business, Ginger touches on her obsession with personalizing her own environment since she was a little girl, "I was that weird kid rearranging furniture in the middle of the night, always trying to improve the layout to create a new feeling for the room.". Combining colors, shapes, textures and usefulness makes her brain light up. Putting this into a context of designing a retail store hadn't occurred to her until she got to see her friend put his store together last year and realized what a great canvas it can be for putting ideas together. Also, as a customer, she wanted a local resource for affordable and unique design options. Ginger and her team have worked hard to source pieces that will appeal to low or high budgets. For instance, their vintage handmade Turkish rugs are on the higher end, but they also have replicas that are less expensive. Handmade, hand-forged pieces that are priced to fairly compensate artists' time and skills sit next to similar options priced for those not looking for investment pieces.
Their love for Olmos Park's neighborhood feel and it's central location made it a no-brainer when they were deciding where Feliz Modern should live. In addition, the community is quickly becoming a retail and arts destination with several new stores now calling it home. Easily accessible by car and bikable from several neighborhoods Olmos Park makes a nice outing for families – their only request? That a coffee shop moves in nearby!
"If a room isn't comfy, why would you want to spend any time in it? We put our feet on the coffee table, have dogs and kids jumping on everything, so if something can't withstand normal life while still looking good, I'll pass. I don't want to live in a beautiful but uncomfortable museum." ~Owner Ginger Diaz
Feliz Modern's Grand Opening is on Saturday, August 26th, 10-6pm
They'll be open for business 10-6pm Tuesday – Saturday and will announce special hours on their social media accounts for workshops, pop-ups and parties. Follow them on Instagram @felizmodern and Facebook to be notified of special events.
They're located at 110 W. Olmos, San Antonio 78212.
REMINDER: MEAL DELIVERY OPTIONS & MENU:
Find out what we're making for next week's meal delivery here.
Whole 30 / Paleo 3 Days: Order 3 days of meals delivered on Monday or Thursday.
For Monday deliveries, order by Friday at NOON. For Thursday deliveries, order by Tuesday at NOON. *Breakfast is not included.
Whole 30 / Paleo Month of Mondays: 3 days of meals delivered every Monday for one month. *Breakfast is included.
Whole 30 / Paleo Month: 3 days of meals delivered every Monday and Thursday for one month. *Breakfast is included.
CLICK TO SEE THIS WEEK'S MEAL DELIVERY MENU
JOIN OUR AMBASSADOR PROGRAM:
Interested in FREE Meal Delivery from us?
Get 10 people to sign up with your unique 10% discount code & receive ONE FREE MONTH of meals from The Good Kind. Email enjoy@eatgoodkind.com to sign up and get your unique code!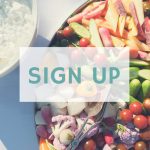 Receive this email from a friend? Sign up to receive our weekly newsletter straight to your inbox here.