27 Aug

Why These Trusted San Antonio Women Choose The Good Kind
"How I learned that food can be medicine." ~Eleanora Morrison, Blogger
"On my every day quest to living well, I am often reminded of how a commitment to practicing a lifestyle change really is a journey. There are valleys just as there are peaks no matter where you are in your process, and this past Sunday I experienced one of my lowest valleys yet."
Eating out with visitors for an entire weekend did a number on Eleanora's body:
"I should have known this would disrupt my system, but I had no idea just how much it would. By the time Sunday rolled around, all I could do was roll, because I had full body aches (legitimate flu-like symptoms), and my stomach was wailing with misery (which meant I was too). I was nauseous, then sweaty, then had chills, then had stomach cramps, *rinse, lather, repeat* for an hour. I wasn't sure if I had food poisoning, or a stomach flu, or if I was just riddled with inflammation from being a glutton for three days straight. Now that it's all over, I honestly think it was the latter. Which is scary, and it led me to learn an important lesson: food, even if it is from a nice restaurant, can be equally as destructive to your system as it can be restorative when you eat all of the things at once."
Luckily Eleanora received her Whole 3o meals from The Good Kind the following day and 2 days later she was already feeling much better. Read more about how these meals have reset her system and what she's learned about inflammation and the benefits of choosing our meal delivery program here and how The Good Kind meals fuel her fitness challenges here.
"Eating clean and healthy helps me be the best version of myself and I can feel the difference energy-wise when I don't take care of my health – specifically my eating habits." ~Lisa Ingle, The Union Yoga & Strength
"I decided to try the month long Whole 30/Paleo meal delivery because I live a pretty awesome life but am busy being a mother, teacher, boss, wife, daughter, friend, partner etc. and find that having healthy and easy meals ready to go allows me to spend more time with the people I love and on the things that need my energy the most."
We pride ourselves on using whole, local ingredients and preparing healthy AND delicious meals, Lisa noticed a difference almost immediately:
"The best thing about the meal delivery is that the meals are easy to take with you wherever you go. I'm in my 4th week and can already see a difference in my skin and energy levels. I wasn't looking for weight loss but started to notice I had times in the day where I felt pretty tired and wasn't sure why. As my diet has cleaned up I don't seem to feel that mid-day slug as much anymore. I am not craving as many carbs or sugars and definitely feel better both physically and mentally."
Read more about Lisa's experience with The Good Kind's meal delivery here and check out her studios and class schedule here.
"One of the biggest gifts I've given myself as a single mama of four is grocery delivery" ~Amy Johnson, Blogger
"I don't always order my groceries, but when I'm in a bind, it can be a lifesaver. Hiring help with everyday tasks in any little way prevents me from stretching myself too thin. And ordering meals from The Good Kind is even better. During back to school week, taking care of me didn't have to take a back seat with three days of meals ready for me to eat whenever I needed. I was able to spend less time prepping meals for myself or eating unhealthy food on the go, and spend more time enjoying my meals and getting back to the things only I can do."
Get more tips from Amy about self-care for busy mamas here.
MEAL DELIVERY FLASH SALE!
Use code GOODLIFE to receive a 20% discount on any Meal Delivery Order.
Must order by Friday, 9/1 @ 12pm.
THERE ARE ONLY 25 DISCOUNT CODES AVAILABLE so take advantage while you can! This steep a discount won't be available again until next year.
We also ask you to "like" us on Facebook and "follow" us on Instagram then tag us in a post letting people know you are living the #GOODLIFE!
We can accommodate vegetarian and pescatarian diets, reach out to us with any questions!
CLICK TO SEE THIS WEEK'S MEAL DELIVERY MENU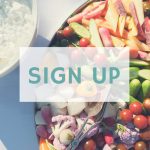 Receive this email from a friend? Sign up to receive our weekly newsletter straight to your inbox here.